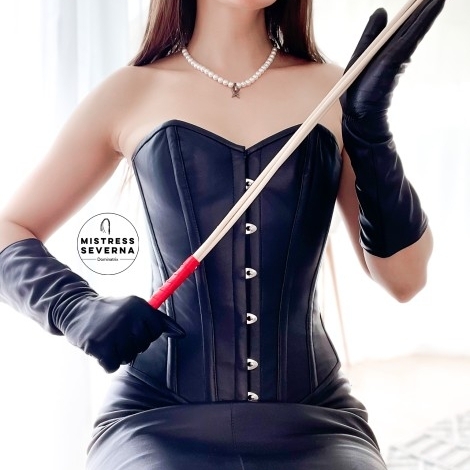 Lausanne
37 years old
Dark blonde
166-170 cm
Shaved
SM/BDSM
Russian
Green
Slim
56-60 Kg
sm/bdsm services
Additional services
Description
Your Next Door Dominatrix and Fetish Expert. Custom sessions with immersive experience. With elegance and high class, I will be your guide in exploring your deepest fantasies and welcome you without prejudice. Confide your shadow side to Me.
Location
My address:

1003 Pl. St François , Lausanne

I go to you
I receive you
My tariffs
INCALL RATE

No Incall, sorry

OUTCALL RATE

From 400 CHF

I ACCEPT

€CHF

PAYMENT WITH

Visa

MasterCard

Paypal
Twint
I am free
Monday :

9h-21h

Tuesday :

9h-21h

Wednesday :

9h-21h

Thursday :

9h-21h

Friday :

9h-21h

Saturday :

9h-21h

Sunday :

9h-21h
2 Reviews
Dark64

Maîtresse Severna a bien su saisir lors de notre entretien mes besoins et envies et on peut dire que j'ai pas été déçu le jour de la session. Aussi sexy que strict elle a su avec habilité jouer entre mes pulsions fétichistes pour ses bottes en cuir incroyables et les punitions en me permettant de me dépasser mentalement et physiquement. Quelle expérience!

TheSlut123

Aujourd'hui j'ai le privilège de servir ma Maitresse Severna en tant qu'esclave. Je lui dois tout et elle est tout pour moi. Chacune des sessions que j'ai eu avec elle a laissé une empreinte indélébile dans toutes les fibres de mon corps et de mon âme. Ma Maitresse, précise, méticuleuse, a toujours façonné ses sessions afin de me faire vivre mes fantasmes les plus profonds. Habile, très intelligente et psychologue, elle sait scanner ma personnalité pour produire en moi des émotions toujours plus intenses. Dominante par nature, elle exerce avant tout par passion, ce qui rend les sessions bien plus intenses car le soumis et la Maitresse y trouvent chacun leur plaisir, et l'expérience est vraiment intense. Ma Maitresse Severna est maintenant une part cruciale de ma vie et je la remercie pour cela chaque jour. Maitresse Severna est la première vraie Déesse dominante que j'ai jamais rencontré.