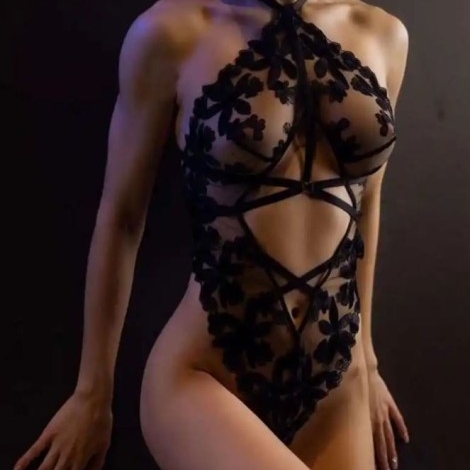 Lausanne
21 years old
Black
166-170 cm
Shaved
Masseuse
France
Black
Slim
51-55 Kg
Description
Bonjour mes gentlemen,
I am a beautiful French woman of 1m65, long brown hair flowing down my back.
I will put you at ease to make you discover an intense and sensual erotic massage. You will be in the ambiance of a soothing scent of burnt incense harmonizing with soft music to create a most relaxing atmosphere. The journey begins, listen to it.
After a shower, you are naked, lying on your stomach. I walk towards you, kneel down with your head between my legs. I put my warm hands on your back, I pour a few drops of oil and I start to slide my hands delicately on your buttocks to accustom your body to my presence. I brush your skin, touching your little hole and your testicles. Your buttocks go up, I slide my hand in the groin, you let escape a little seminal liquor. I leave your parts temporarily, I slide my hands slowly on your thighs, your legs, your feet. With a soft voice I ask you to turn around. You offer me the view of your tense member. I'm already dying to feel it in my hands, to caress it until my fingers are glistening with your hot cum. But not so fast, I still need you to be more relaxed.
I begin long glides up to your neck, your neck, your ears, very erogenous zones and I delicately touch your face. I go back down to your chest, touching your sensitive nipples which start to point. Your breathing quickens, your hand rises and our fingers mix.
I move to your sex. I bathe it with hot oil and cause it to harden. Impossible to resist. Your sex is trapped in my agile hands. The testicles are also kneaded, my hand even ventures towards the anus in a soft pressure, it is delicious. The red glans is caressed by rotation, you twitch, sigh, blow. I observe you to better control your gestures. My thumb presses and titillates the urethra. It is torrid. I add oil. It's up to you to choose the next step.
Location
My address:

Privé, Lausanne

I go to you
I receive you
My tariffs
INCALL RATE

Please contact me

OUTCALL RATE

No outcall, sorry

I ACCEPT

€CHF
I am free
Monday :

0h-23h

Tuesday :

0h-23h

Wednesday :

0h-23h

Thursday :

0h-23h

Friday :

0h-23h

Saturday :

0h-23h

Sunday :

0h-23h