Many people in Switzerland who have a foot fetish, or are adept at podophilia, tend to develop it from a very young age, or even as early as childhood. It is said that this fetish could be the most common of all and can bring some amazing benefits. It is estimated that 70 million people practice it worldwide. And many celebrities have shared their love of feet. You want to know some? You will be very surprised, check that: Britney Spear, Enrique Iglesias, Ludacris, Pharell Wiliams, Pink or even Elvis Presley. But despite the popularity of this fetish, perhaps you don't know what to do with those feet once you get the urge to indulge in it.
You're a little lost, you don't know how to deal with it?
Well here are 6 ways to practice a foot fetish. Have fun and use these ideas to find out what works best for you.
---
---
1. Foot massage
Offering or receiving a foot massage is a fairly obvious indication that someone has a foot fetish. Many people enjoy foot massage in Switzerland. There are even spas that focus on this service and may offer much more amazing services than you might think. Foot massage can be exciting or a little ticklish, but it can also be very erotic. Just because you want to touch, caress and massage feet doesn't mean you know the best way to do it. It's a lot to learn, but it can be learned very quickly if you follow these advices. Communicate to your partners about what you like and what feels good, whether you're giving or receiving. Tricks like spreading your toes simultaneously with four fingers can be very erotic. Some people will prefer to put more pressure on the bottom of their feet than on the top. Reflexology can be very useful for any true foot fetishist.
2. Toe sucking or licking, also known as shrimping.
No, « Shrimp » is not one of Forrest Gump's jobs, it's actually a term used to refer to sucking or licking pretty little toes, since they look a bit like shrimp! Sucking or licking toes is a fairly common activity among foot fetishists. Most of the time, they like their toes clean and pedicured and like to pay attention to each finger. There may also be some nibbling but be careful not to bite too much or scrape nail polish off the toes.
---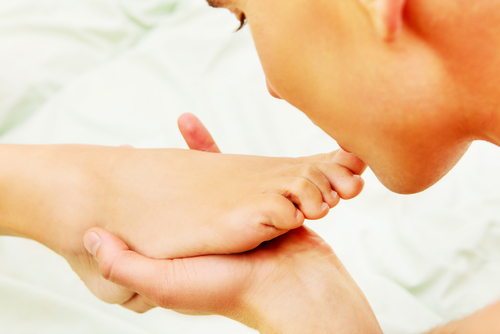 ---
3. Trampling is king
Some people really like getting trampled all over, literally. They dream of surrendering themselves to beautiful feet by pretending to be a doormat, a sidewalk or a stool. Hands, thighs, buttocks and back (but not the spine) can all be trampled, with a little support from the furniture around you. A foot fetishist may like to have feet covering his entire face, but we do not recommend standing on your face without sufficient support or sitting in a chair. Unless you really like to suffer, in which case we recommend more SM or BDSM practices.
A submissive might enjoy looking at his mistress from the ground as if she were a goddess from the sky. He might also want to feel like a little bug under strong and powerful feet, able to crush them on the ground. With more imagination, one can also use fruits, food or other small breakable objects crushed against the ground or the body. However, you are reminded that trampling animals is illegal and is considered as extreme cruelty. We respect and protect our Catgirl!
4. Tickle all the way
Feet can be the most ticklish part of the body. Although tickling is a popular fetish in itself, it is often associated with special attention to sensitive areas on the soles of the feet and toes. If your feet are very ticklish, or if tickling is an important part of your fetish, it's a good idea to include it in your play procedure. Some people can be very ticklish, but not really enjoy the sensation. Others may not be ticklish but may still enjoy playing the game and letting you find the spots that make them jump.
5. You like dirty feet?
Sweat contains pheromones that can cause significant sexual arousal. Completely clean, virgin feet may not have the intense aroma that some foot fetishists look for. Some fetishists want to play with feet that are very sweaty or smell bad. Some may even enjoy the appearance of dirt on the soles of their feet, much like walking around barefoot for a few days. This is an area where it's best not to make assumptions, so better talk about it with your partner first. A strong smell can be a real stimulant for some people and a real repulsion for others. As a client, if you prefer your feet to smell a little natural, let your escort know so that she can wear the right shoes, often without socks, to help the smell of her feet to be perfect for your day.
6. Footjob
Now we're getting to the heart of the matter and it's all about the pleasure of the man. We know they like it when their female partners practice masturbation with their expert hands. But why not raise the level a little higher and use the feet for this practice? Then of course it requires a little training from your girlfriend, a coordination of the left and right foot and above all a little physical endurance because these are muscles that you don't use every day. But the pleasure will be much more intense. If you try it at least once, the adoption is very quick.
You want to see some pictures representing this practice?
Na, sorry guys. You will need to make your own research on that, we're a public blog. But look at these magical secrets of a footjob to learn something more
It's up to you now
These are just a few ways for foot fetishists to indulge their fantasies. Others can include foot worship inside shoes, from sexy high heels to boots and flip-flops. Size may also be important. Some people like feet that are particularly large or small, or they may want to compare feet of different sizes among friends. Eating foods like pies or noodles directly on your feet is another fun way to combine food with your foot fetish. And the list goes on and on! Your turn to find new ways to enjoy foot pleasure, good luck.
---
Read other articles:
---