Your friend's wedding is quickly approaching, and you want to give him a memorable surprise? Think about organizing him a bachelor party he'll remember for the rest of his life. A successful Bachelor Party is a succession of exceptional activities designed to entertain the groom-to-be. The idea may run through your mind, but you may not know where to start. If you're wondering how to choose the best activities, here are a few ideas for organizing the best « crazy Bachelor Party » with friends.
Prerequisites for a successful crazy Bachelor Party
Organizing a great event requires a lot of energy and involvement. But have you asked yourself if the groom-to-be would like it? If he doesn't feel « involved » enough, you'll feel like you've done it all for nothing. Or that your friend doesn't appreciate your efforts.
That's why you must take the future husband's preferences into consideration because, after all, it's his bachelor party. You can subtly extract information about his or her wishes in order to plan the party of his or her dreams.
Another important detail: the female gender is not allowed during these activities! This is the last time you can enjoy your friend before he is forced by marital obligations. So only invite people you trust, close friends who know how to set the mood.
Choosing the ideal destination
Going on a trip is the classic way to organize a Bachelor Party. While it is a change of scenery, you have to find a destination that makes you dream. Among the most popular places, Eastern Europe has been attracting thousands of curious people for several years. These exotic destinations generally offer unusual activities that are rarely found elsewhere. The advantage of Eastern European destinations is the affordable prices of the various services offered. So, Budapest, Bucharest, or Prague? It's up to you!
However, if you want to stay in Central Europe, Switzerland offers the perfect setting for your activities. Whether it's culinary delights or exciting adventures, Switzerland offers countless possibilities. You'll have no trouble revealing your inner partygoer. Remember, the important thing is to have fun with friends before the groom-to-be is « imprisoned ».
---
---
Organizing a Culinary Marathon
If there's one activity that will appeal to the future ex-bachelor, it's filling your belly. To make this moment memorable, try dishes of different flavours (sweet, spicy, salty, atypical…) to taste everything. Above all, don't forget that anything is allowed in this type of gourmet rally. Add some competition among yourselves to spice things up a bit.
And for dessert, how about a body dessert? Indeed, after the meal, the dessert is served on the body of a charming lady. One thing is sure, you will take the dessert with great appetite.
Take a limousine ride
You've always dreamed of getting into a luxury car? Then a limousine ride is a great bachelor party idea. The groomto-be will certainly appreciate having all his friends around at a time like this. To make the evening even hotter, call on strippers for a unique show inside the vehicle. It's a unique experience.
Go to a private lounge
Once married, your friend will be completely devoted to his wife and will no longer be allowed to look at another woman. Then it's time for him to experience the joys of celibacy one last time. For example, go to an erotic salon or pay for the services of a catgirl. The escorts and salons in Switzerland are full of seductive specimens designed to offer you massages and ultimate moments of relaxation with their many naughty techniques.
---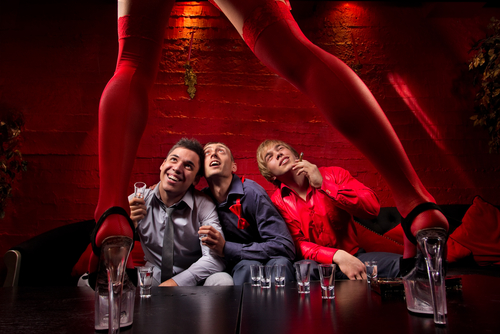 ---
Brew your own beer
Among the original ideas you may have, brewing the beer you drink can be a very rewarding and fun experience. To become an amateur brewer, you need to gather the necessary materials (available online). The experience is more interesting because by trying, you'll be able to brew the perfect beer.
All you have to do is mix different brewing substances to make a hopped beverage of your choice. It's also a chance to make this kind of drinks you've made yourself once you will be back home. After you have made your drinks, you can organise a workshop where you will taste your drinks with each other.
Play paintball
Since during the Bachelor Party, you'll be reunited with friends who are close to your heart and maybe even childhood friends, it's the best time to become children again. Fight an unprecedented battle with paintball. It's a game where you have guns that send paintballs to your opponents. In a space reserved for the occasion, this game is very immersive and fun. Suitable for those who really want to have fun (and have big bruises on their skin).
Giant paddle
Paddling is a very pleasant water activity where you paddle while standing up. In groups, you can try the giant paddle, meaning you can paddle together on a board. If this activity requires team cohesion, you may be able to form teams for a small competition. That would be so much fun!
Beer biking
If you're a fan of team activities, beer biking should delight you. It's about taking a little ride with friends around a table while having a drink. The friends sit around the table and each one pedals to move the platform forward. The steering and braking are done by a driver. This activity allows you to do some sightseeing while visiting the city while drinking beer. The driver is not allowed to drink alcohol so there is no risk of accident.
Play Escape Game
A game of escape game is ideal if you like to rack your brains. A totally immersive game, escape game requires players to find the solution to the puzzles put before them by using different clues. There are escape game rooms that offer fully customizable rooms for an extraordinary adventure. It is also possible to find a drinking escape game to combine fun and reflection, an interesting mix!
Do some tree climbing
Reserved for thrill-seekers, the tree climbing or acrobatic course in height is an activity that generally takes place in wooded areas. It consists of a course located high up thanks to secure installations. Participants must walk more or less acrobatically on supports placed between two trees or artificial installations. There is nothing to be afraid of, as each participant has individual protection consisting of a harness or a shoulder strap connected by lanyards to a lifeline placed all along the course. Thus, you will be able to evolve on the course from tree to tree using the structures, bridges or zip lines at your disposal. Treat yourself to a moment of relaxation in the open air during your crazy Bachelor Party.
Take the big leap into the void
Since marriage is a big leap into the unknown for a bachelor, you can make a caricature of it at the bachelor party. Indeed, bungee jumping is a classic for those who love thrills. The future ex-bachelor will be able to take his big leap from a viaduct or a cable car. Held by a string, he will get the thrill of his life thanks to this jump into the void. Of course, this moment will have to be filmed on video and then broadcast on the wedding day.
Another type of jump into the void for lovers of extreme sensations is the parachute jump. Specialized parachute jumping agencies offer the possibility to taste the real outdoors. So get the groom on an airplane, equip him with a parachute and give him the thrill of his life. You can also accompany your friend on this incredible adventure by making the jump with him. Adrenaline guaranteed!
Practice bubble soccer
Football lovers should love this activity. Bubble soccer is a variation of football. It consists of playing football with a large transparent bubble filled with air on each participant's chest. Due to the limited space on the field, the participants jostle each other very quickly and fall down while bouncing. A hilarious activity that promises a great laugh among friends.
Virtual Escape Game
As we saw above, Escape Game is quite recent and more and more trendy. You work on your intelligence and logic. And if you add a few beers before you play, it's epic. But now we're breaking new ground by moving into virtual reality. Equipped with an immersive headset, you'll be amazed: landscapes, digital effects or hallucinating music, it's a guaranteed escape for an extraordinary journey without moving.
Organize an assault course
For the adventurous who are not afraid of anything, the assault course is the activity par excellence to do at a bachelor party. Also known as a commando course, the participants put themselves in the shoes of real commandos to face challenges that are out of the ordinary. This activity is usually an obstacle course during which you can pass under barbed wire, walk in the mud, run over fire, jump, climb or crawl. You'll only want to do one thing: finish your course quickly! The recommends having the spirit of a fighter. Be careful though, because you can get away with a few scratches.
Up to you now
We gave you some hints on a crazy EVG. But now it's up to you to set it up. A bachelor party is planned a few months in advance, so you have time to plan everything properly. Everything you need can be found on the internet, so do some research with the right keywords and you'll easily find a solution to all your questions.
---
See other articles:
---