Everyone has their own sexual fantasies. While most of us opt for a basic GFE experience, some prefer to be a little more creative by engaging a more specific service like BDSM. However, there is one fantasy that almost every man in the world shares: to have a threesome with two escorts. But what is the reason why all men fantasize about that? Let's discover it right now.
---
---
Why men love lesbian escorts in Geneva
The idea of being both pampered and adored by a duo escort could be an exciting idea for some. In fact, most men fantasize about a threesome because they think it is a sign of traditional masculinity.
In addition, dating two bisexual women makes the client feel like they are at the center of the « scene ». They have the idea that it increases their sexual status or level of attraction. Being spoiled by two sex kittens can certainly be a boost to the ego of the typical male. Especially for men who don't feel safe, a ménage-a-trois can be a real confidence booster because they love being pampered by two beautiful women. They have the idea that going out with a pair of escorts means they are attractive enough to have two hot, squeaky girls in bed at the same time. Sex between women is an enchanting game. It can be an intimate and special show in which you can play the lead role. You will experience double eroticism and double sensuality when you are pampered by two charming ladies.
A biological urge could be the third reason why men allow themselves to be seduced by lesbian escorts. Having two women at the same time is usually very intriguing for men because it represents a double pleasure. There are two bodies to appreciate and satisfy in addition to a desire to procreate with as many women as possible. This is not completely unexpected because, biologically, every man wants to spread his genes.
Why women love lesbian escorts in Geneva
Women who want to explore their own sexuality are among the best known in the escort niche. Some of the girls listed on Catgirl are bisexual and can really enjoy meeting another woman for a lesbian experience. For some women, dating a lesbian escort is without a doubt something that has often intrigued them and triggered their fantasies. They simply did not realize their dream because of a lack of self-confidence. For others, contacting a bisexual call girl is a normal way to enjoy the guilty pleasure of an unhurried intimate encounter.
Whether you want to help your partner broaden her horizons or you simply want to turn your own imagination into reality, the lesbian escorts in our escort repertoire guarantee you a romantic and happy experience. Inviting a lesbian companion into your threesome can certainly be a plus because she will bring pleasure to your partner and visual excitement to you. Sit back and watch the sensual attraction between two female escorts who love to please each other!
---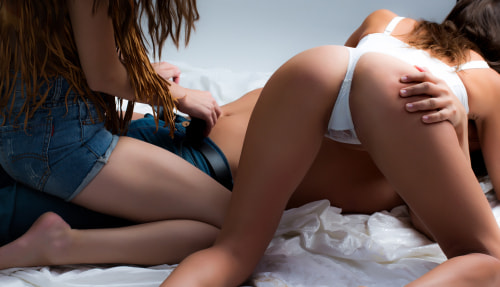 Sex is like the air we breathe: it doesn't seem important until it's gone. So before you run out of breath, live your sexual experiences to the fullest.

Catgirl
The game of lesbian escorts in Geneva
According to many lesbians, the following principle applies: « The more players there are, the sweeter the game ». So invite one of our charming companions when you go out with your boyfriend or several adventurous friends. It will end with a tasteful evening that you will surely remember for a long time. You can experience special events, celebrations or simply unforgettable hours in the company of these ladies. A hotel room, a whirlpool, beautiful playmates and countless options and variations will stimulate the imagination of every lady and man. Book these elite escorts to make your evening more interesting and enjoyable. They are sure to be the highlight of your evening. Call them today and experience countless erotic possibilities with them. Your preferences will be accepted by them without prejudice.
Meetings with lesbian escorts in Geneva
The fantasy of a threesome is very common, whether we admit it or not. Having a threesome can be a fun and naughty sexual experience. There is no denying that there are many mysteries surrounding this « forbidden fruit » which makes it even more seductive. It is impossible to imagine what it is until we have experienced it. You are in control of your own body and your sexual escapades. And this may be the perfect time to take this experience off your to-do list.
Nowadays, escort booking has developed in many ways thanks to Internet marketing. Some people prefer to use a lesbian or gay dating application. Others choose to hire independent call girls through escort directories such as Catgirl or girls through escort agencies. It is advisable to choose the method that suits your needs and requirements.
If you are looking for a job in the world of Escorts or more generally in the erotic world, you can apply on our Jobs page. We can place you in trusted partner establishments.
Share your imagination for a duo date, a frivolous party or a hot adventure with several hands with our Catgirls. Everything is possible: from the special arts of eroticism, spicy role-playing games to glimpses of a new chapter. Whether it's for an intimate couple or a wild trio, it's up to you!
---
You should also read:
---